Whether you're starting with the basics or an experienced investor, we have the resources you need to enhance your knowledge.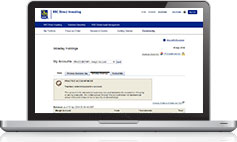 Test before you buy
With a FREE RBC Direct Investing Practice Account, you can gain experience by investing in the actual online investing site, using $100,000 of practice money. Practice Accounts are risk free and a great way to:
Sharpen basic skills, like placing buy or sell orders for stocks or mutual funds
Explore more advanced strategies, like options trading
Create a practice portfolio and then track its performance over time
Visit Getting Started in the online investing site to set up a Practice Account.
Join the Community
The RBC Direct Investing Community(1) has a wealth of resources plus the opportunity to connect and learn from others.
The Learning page has something for new and experienced investors alike:
Brush up on common financial definitions in the "Term of the Day"
Uncover a new strategy in the "Did you Know" articles
Compare your opinion with others by participating in a poll
Read about the experiences of your fellow investors or share your own in "My Story"
1) Specific terms and conditions apply to membership in the RBC Direct Investing Community. For details please sign into the RBC Direct Investing online investing site, click the link to the Legal Terms of Use and read the RBC Direct Investing Community – Terms of Service.