Pre-Authorized Contribution Plan
Open an Account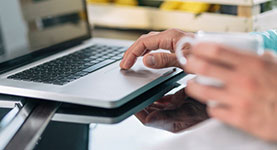 Put your savings on auto-pilot
Set yourself up for success! A Pre-Authorized Contribution (PAC) Plan is an easy way to make automatic deposits into your account on a schedule that works best for you. For example, if your paycheque is deposited into your bank account bi-weekly, you can arrange to have an amount deposited into your RBC Direct Investing account on the same schedule.
Benefits of starting a Pre-Authorized Contribution Plan with us:
Set up your PAC plan once and automatically contribute to your accounts on a weekly, monthly or quarterly basis
Maintain a PAC plan of at least $100/month ($300/quarter) and we'll waive our $25 quarterly maintenance fee
Invest the money however you want to once it's in your account
Don't just take our word for it
Use our Pre-Authorized Contribution calculator to see how saving regularly can help you reach your savings goals. Calculate how your savings could grow if you contribute regularly, or calculate how much you need to save in order to reach a goal.
1)
There is no quarterly maintenance fee charged if your combined assets are $15,000 or more across all of your RBC Direct Investing accounts. If your combined assets are less than $15,000 across all of your RBC Direct Investing accounts, you will be charged one maintenance fee of $25 per quarter (split across all of your accounts). However, you have a number of additional ways to have this fee waived. For full details please refer to the complete Commissions and Fees Schedule at
www.rbcdirectinvesting.com/fees
.